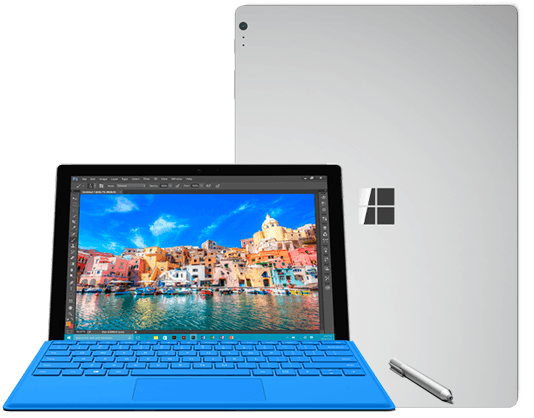 The Microsoft Surface is a convenient, portable tool for stay-at-home parents, business professionals, and students. ComputerXpress will know what Microsoft Surface services will be the best for the damage. The surface is a great choice if you need a computer that is also a tablet. However, with optimal portability and lightness the option from Microsoft keeps customers coming back.
Need Microsoft Surface Services, Quick? ComputerXpress is Your Best Choice!
The Microsoft Surface have great versatility with a detachable keyboard and pen. Using both provides a unique user-experience, and when people try the Surface for the first time, they're hooked!
Furthermore, the ComputerXpress team of technicians asses and refurbish a Surface is the only time, they will resell it in our shop. We only use the best top-quality replacement parts.With any tablet, the screens are easy to break. One wrong movement and a fall will leave your computer-tablet hybrid cracked.
In addition, ComputerXpress and the team have experience in the repair of every version of Microsoft Surfaces. To repair a damaged screen, keyboard, connectors, or pens we only use the best quality repair parts. Rather, we work on all the components of the Surface and have had a lot of experience with different scenarios and issues.
In Addition ComputerXpress Backs Our Repairs With a 90-Day Guarantee
On the other hand, our customers know we use the best replacement parts. Most importantly the parts all come with a 90-day warranty against any defects. ComputerXpress always keep the customer first and with Microsoft Surface repairs, we leave nothing unchecked.
At ComputerXpress, we work quickly to fix all of the most common Microsoft Surface issues including:
Cracked screens
Water damage
Broken charging ports
Malfunctioning buttons
And more!